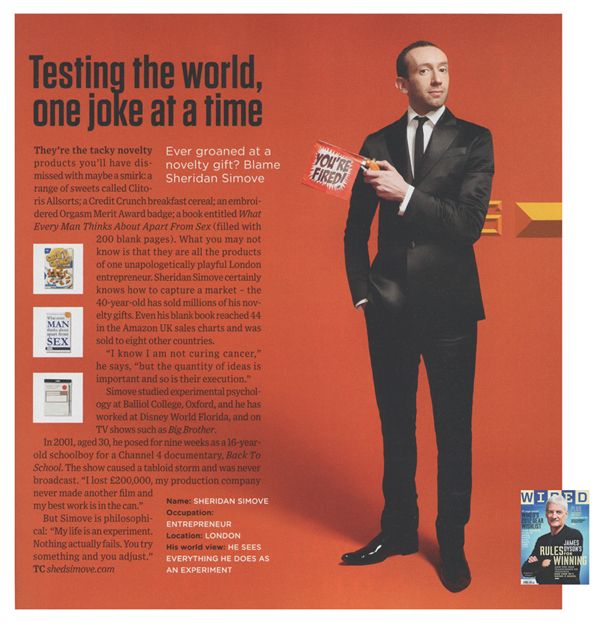 Shed Simove is a performer, author, serial entrepreneur and motivational speaker on creativity and innovation. Harnessing a constant stream of ideas from his astonishingly active mind, Shed has learned to transform his unconventional concepts into lucrative new business ventures which form the basis of his completely unique stand-up routines and corporate speeches.
Following a degree in Experimental Psychology at Balliol College, Oxford, and two years working in DisneyWorld, Florida (as a Sixteenth Century Gentleman), Shed worked in TV Production, heading up programmes including 'The Big Breakfast', 'Space Cadets', and 'Big Brother'. Shed soon became known industry-wide for making innovative, ground-breaking television shows. In 2003, Shed was appointed Commissioning Editor of Channel 4's 'Big Brother' and throughout his TV career was also involved in discovering and launching many stars including Kelly Brook, Tess Daly, and Russell Brand.
As well as a successful career in television production, Shed has forged a highly innovative merchandising empire – selling one million novelty gifts, executive toys, best-selling adult sweets, books and greeting cards worldwide. He's even launched his own currency! Shed has won 'Gift Of The Year' twice for two of his creations – sex shop a range of birthday candles that spelt "You're Old" and the hugely popular 'Sound Machine'. He also gained worldwide fame as the bestselling author of 'What Every Man Thinks About Apart From Sex', a 200 page book that is completely blank inside. This title reached the top fifty of the Amazon chart.
Shed's ability to create new ideas, coupled with his skill to make them happen, mean that his rangeand rate of success is vast. Thus, his performances are wonderfully motivational as well as entertaining
. He has the ability to both inspire significant, profitable changes and then equip you with the tools to make those changes happen. Shed's inspirational and hugely informative performances showcase his amazing career path, using props and visuals tha
t add to the engaging and exciting stories he tells. Shed has performed his visual and inspirational presentations and after dinner speeches to both entrepreneurs and non business people alike.
A cross between Anthony Robbins and Woody Allen, Shed is a truly compelling, uniquely memorable, one-off performer.
All Shed's performances can be tailored to suit the audience and the occasion.
If you need a Corporate Speaker on Innovation and Creativity or someone to facilitate a Brainstorm session that will create exciting new products and services for your business, you can book Shed for his corporate speech that delivers a highly original, entertaining and inspiring take on creativity, innovation, business, success and entrepreneurship. Please email corporate@ShedSimove.com
Shed's book "IDEAS MAN" is the true story of this visionary maverick's amazing adventures. At breakneck speed, Shed describes how dozens of his ideas came to be, how they succeed or sometimes disastrously fail. Some of Shed's ideas include: a range of award winning candles, a groundbreaking documentary that involved him going undercover as a 16-year-old schoolboy (when he was 30) and the launch of his own currency – the 'EGO'.
IDEAS MAN is a unique book written by a completely extraordinary character. A hilarious and inspirational real-life tale of eccentricity and enthusiasm, it's perfect for anyone who's ever had a dream and wondered how to make it come true. Shed is living proof that you really can make it happen...
Shed has also published Success...Or Your Money Back - the easiest and quickest success manual in the world.
(The book is available on USA Amazon HERE or from UK Amazon by clicking HERE).
In this ground-breaking book, Shed reveals 30 NEW SECRETS that show you how to get GET ANYTHING YOU DESIRE.
To see Shed's latest TV appearances and videos, click HERE.
sex shop
sex shop
sex shop
sex shop
sex shop
sex shop
sex shop